Golfing Pioneer William Powell Dead at 93
Jan/08/10 02:03 PM Filed in:
People
The accomplishments of Golfer William Powell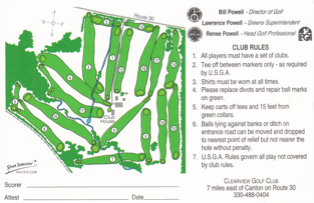 Golfing Pioneer William Powell Dead at 93
The golfing profession has lost a great trailblazer. On January 3, 2010 the Associated Press announced that golf course owner, William Powell, had died of a stroke at his home in East Canton, Ohio. I last saw Mr. Powell 8 years ago at the Clearview Golf Club, looking out the pro shop picture window at the 18-hole golf course he had designed and built. For those who have not heard of Mr. Powell's accomplishments, here is a brief summary.

I once attended a chapter meeting of the Lincoln Highway Association in Minerva, Ohio. Sitting next to me at the dinner table was a lovely black lady who introduced herself as Renee Powell. That evening Renee was the guest speaker and her main topic was William Powell, her father. She began by telling us that she was the second African-American to compete on a LPGA Tour and one of a few women the men's PGA had accepted into their ranks. She had competed around the world and won many tournaments. Renee credited her success to the coaching she had received from her father. Then she told us about her father and the difficulties he overcame.

William Powell was an outstanding athlete in high school and excelled in every sport. His one great desire was to play golf but in the early 1930s all golf courses were closed to minorities. However, he did manage to find a caddying job at one of Canton's Country Clubs and played when no one was looking. When World War II came, William Powell enlisted and was assigned one of the war's most dangerous jobs. He drove a truck during the Normandy Invasion. When the Germans Air force strafed the American truck columns or enemy troops fired on them, the drivers could not defend themselves as the colored drivers were not permitted to carry guns.

With the war over Sergeant William Powell returned home only to find the golf courses were still closed to black golfers; even war veterans. Unable to play the game he loved, he decided to build his own golf course. In order to build his golf course Mr. Powell took a night job as a security guard at the Timken Company and then applied for a GI Loan. The loan was denied. Mr. Powell had to borrowed money from his brother and several black doctors. He was able to purchased nine acres of pasture land along the Lincoln Highway. In 1946 the Greyhound Bus Lines traveled on U.S. Route 30 and Mr. Powell reasoned that golfers could use this bus service to reach his golf course. Over a period of two years Mr. Powell worked during the day building his golf course while still keeping his nighttime job.

Once the course was completed Mr. Powell opened it to all races. He also developed golf leagues for both women and youths. Eventually he was able to repay his benefactors and gain full ownership. When I visited Clearview, the course had just been honored with an Ohio Historical Marker which reads in part, "The first golf course in the United States designed, built, and owned by an African-American." (See photo above) Of the 17,000 golf courses in the U.S. only
Mr. Powell's golf course and a few others have been placed on the National Register of Historical Places by the United States Department of Interior.