Dora and Joseph Schwebel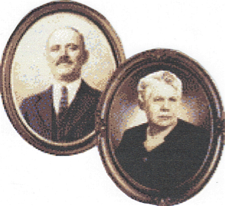 Dora and Joseph Schwebel began baking bread in Campbell, Ohio, in 1906 and delivering it to neighbors in wicker baskets. The bread had unmatched freshness and superior quality which helped to expand the customer list into adjacent Youngstown. By 1914 more bakers were hired and a horse and wagon were purchased to speed the oven-fresh deliveries. About that time Dora and Joseph contracted with several local grocery stores to sell their bread. No longer did their customers had to wait for home delivery, but could simply purchased Schwebel's bread at a local market. By 1923 Schwebels had a fleet of six vehicles and were selling 1,000 loaves a day. The future looked bright, then tragedy struck, Joseph died in 1928 at the age of 46, leaving Dora with six children and the family business to run.
In 1928, many people believed the baking business was no place for a woman with young children. Dora Schwebel was told she should sell her bakery and stay home with her children, but she wouldn't hear of it. Instead, she stared down the naysayers and decided to carry on with the business she had built with her husband. Against all odds, Dora forged ahead to keep her family thriving. The stock market crashed in the fall of 1929, less than a year after Joseph Schwebel's passing, and Dora and her young family found out just how difficult running a business could be.
Vowing to meet her obligations by working all day and all night if necessary, Dora skillfully negotiated a number of critical agreements that kept the business running during the Great Depression. She built a new bakery in 1936 that doubled production and improved efficiency, and then added to it in 1938 and again in 1941.

The 1940s were also a productive period for Schwebel's Bakery. Women went to work in the factories, replacing the men who were drafted into military service during World War II. The working women found themselves with less time to prepare meals for their families. Hence, Schwebel's bread became increasingly popular among women who had less time to bake. When the American men returned from the war, young families increased is size, fueling the growing market for Schwebel's products.

In 1951, Dora and her children moved into their "million-dollar bakery," a brand-new, state-of-the-art facility at the intersection of Youngstown's Midlothian Boulevard and Lake Park Road. The 1960s saw the beginning of Dora and Joseph's third generation participation in the company. By 1967 the Schwebel Golden Rich Bread brand was copyrighted and licensed to be sold across the nation. Beginning in 1982, Schwebel's became the official bread company of Disney World's Epcot Center. Other important customers added during that decade were Stouffer's and Pillsbury. Meanwhile, operation centers were opened in Columbus and Buffalo.

For more than 100 years after its humble beginnings in a suburban Youngstown kitchen, Schwebel Baking Company continues to produce the breads people ask for by name. With more than 1,400 team members dedicated to maintaining the company's standards of quality, freshness, and honest hard work, the Schwebel family makes sure that customers get nothing short of great taste every time. Joseph and Dora wouldn't have it any other way.

"Youngstown Born and Bread"