Greta Garbo (1905 -1990)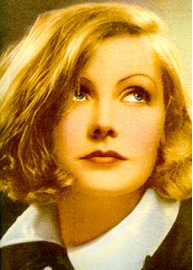 On September 18, 2005 Hollywood celebrated the hundredth anniversary of the birth of one of their most beautiful film stars. It was MGM's 1935 movie entitled Anna Karenina where Greta Garbo gave her most breathtaking performance as a woman torn between two lovers (Fredric March and Basil Rathbone) and her son (Freddy Bartholomew). For her acting, the 24 year old Swedish actress was nominated for an Academy Award as the Best Actress. Unfortunately she didn't win, but Garbo continued to give intensified performances in whatever was handed to her.
Greta Garbo's last film was in 1941 after which she retired, never to face the camera again. She abandoned Hollywood and moved to New York where she developed the Garbo mystique by repeating "I vant to be left alone." On April 15, 1990, Greta died of natural causes. She was interred at Skogskyrkogården Cemetery, Stockholm, Sweden.