Cyril Paul Deibel (1896 – 1945)



Mr. Deibel at the age of 25

"Cy" Deibel was already president of the Twin Dry Cell Battery Company in Cleveland, Ohio, when this photograph was taken around 1920. He was to live another 25 years and accomplish much during his short lifetime. Here is his story as told by his 73 year old son, William Thomas Deibel, now living in Seattle, Washington.


Cyril never liked his name and preferred being called "Cy". He was born on February 23, 1894 in Youngstown, Ohio, the son of Charlie and Agnes Deibel. He was raised a Roman Catholic and attended a parochial grade school before attending Rayen High School. There he graduated at the top of his class in 1912. In 1916 Cy graduated from Ohio State University with a degree in General Engineering. At OSU he was initiated into the Chi Phi fraternity. Then from graduation until the U.S. entered World War I he worked in his family's meat market in downtown Youngstown.
In 1917 Mr. Deibel enlisted in "U.S.A. Base Hospital 31 of Youngstown, Ohio" and played the cymbals in their band. Formation of this Base Hospital was approved and sanctioned by the American Red Cross with the understanding that Youngstown residents would raise $50,000 by subscription with which all equipment would be purchased to equip a 500 bed hospital. Within a few days 300 leading local citizens and firms had exceeded this goal. Dr. Colin R. Clark was put in charge and directed to enroll the doctors, nurses and enlisted men required. Cy was among those enrolled. They trained in Allentown, PA and were then sent to Contrexeville, France, a famous old spa where seven hotels and a casino were taken over by the French government and provided to the U.S. Army for hospitals. Cy was assigned as "Ward Master" in charge of the Hotel Continental and eventually was promoted to First Sergeant. At the end of the war, along with two officers and two nurses, Cy was awarded the French Medaille d'Honneur en Bronze for "looking after French soldiers and civilians with zeal and devotion." He arrived home and was discharged in April 1919.
Cy Deibel wasn't home but a few months from the War when he discovered a small young company in Cleveland making unconventional batteries. He immediately went to work for the Twin Dry Cell Battery Co. in sales—possibly the only salesperson. At that time the company had a total of $25,000 invested and was owned by Sam Ziliot from Akron. Cy saw promise in the battery business and convinced three men, his father Charlie Deibel, Charles S. Thomas and William A. Thomas, to buy out Sam Ziliot and to invest another $175,000 in this small Cleveland company. Cy was then hired to run the business with the title of president and general manager. Under his executive leadership the company grew every year – even during the depression. In addition to the general responsibilities of being CEO, Cy Deibel was also the Chief Engineer. He was awarded 36 patents relating to dry cell batteries and their manufacture. Moved by his brother's hearing impairment, Cy pioneered the development and miniaturization of batteries to facilitate electric hearing aids. During World War II he designed many battery types for the Navy's submarines and for the Army's small walkie-talkie radios.

In 1919 Cy Deibel was living in Cleveland and working for the Twin Dry Cell Battery Co. while communicating by train to Youngstown on weekends to see Marion Struthers Thomas (1898 – 1982), the daughter of Charles S. Thomas (1869 – 1945). Mr. Thomas was one of the battery company's major investors. Marion and Cy soon became engaged and were married in 1923 by both a Catholic priest and a Presbyterian minister in the home of the bride located on Wick Avenue. (The Thomas house was later used by the Dana School of Music of Youngstown State University) Following the wedding, Cy Deibel severed all ties with the Catholic church to the great disappointed of his father, Charlie Deibel. The married couple then moved to Lakewood, a suburb on the west side of Cleveland where a daughter, Jeanne Marie, was born a year later. In 1933 a son was born and was named William Thomas. Father and son spent much quality time together. Bill remembered his father as being a chain-smoker. "Dad would be showing me how to soldering electrical wires and he would have one cigarette in his mouth and two others lit on the work bench," he said.
Cy Deibel was a Republican who, opposing President Hoover's policies, voted for Roosevelt in 1932. Thereafter he regretted this vote and became a rabid anti-New Dealer. He was an isolationist, opposing U.S. entry into World War II up until the Japanese attack on Pearl Harbor. Following the attack Cy Deibel directed the battery company to "go all out" to support the government in every way possible – this at the expense of all civilian business considerations.
Mr. Deibel was an avid duck hunter, fly fisherman, and card player – particularly poker, bridge, pitch, cribbage and pinochle. His poker friends elected him the "dean" to whom all disputes were directed for resolution without appeal. His wife, Marion, was an active civic leader in Lakewood. She was a board member of Planned Parenthood and a trustee of the Cleveland Zoological Society. The Deibels had a unique loving marriage.
It was a shock to the family when Cy died at the age of 50 from cancer of the pancreas. Bill was just 11 years old and Jeanne Marie was in college at the time of their father's death. Jeanne dropped out of college for a year to help her mother, who took the loss of her husband very badly.
Deibel's battery company was sold to P.R. Mallory & Co., Inc. in 1956. It is interesting to note that when Cy started in the business there were 119 U.S. companies making dry batteries. At the time of his death his company was third in size out of the eight remaining manufacturers. After other mergers, acquisitions, and divestitures, the Twin Dry Cell Battery Co. exists today as Duracell and is part of the Gillette business unit of Procter & Gamble, the largest dry cell battery producer in the world.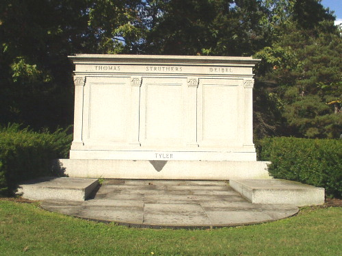 The Thomas-Struthers-Deibel and Tyler Monument at the
Poland Riverside Cemetery


Mrs. Marion Thomas Deibel died in 1982 at the age of 83. She is buried next to her husband in the Riverside Cemetery, Poland, Ohio. Her parents, Charles and Helen Thomas share the grave site. Marion Deibel traced her ancestry back to John Struthers, one of the first settlers of Poland Township.
Jeanne Marie Deibel graduated from the University of Michigan in 1947 and married John Tyler that same year. She is now a widow and lives on Tibbits-Wick Road in Trumbull County. William Deibel graduated from MIT in 1955 and married Karel Schumacher in 1959. He is now retired and living on the west coast and has provided the information for this article.