Edward "TED" Gorey
(1925-2000)


Let me introduce you to a very talented illustrator and author. You undoubtedly have seen the animated film opening to the PBS "Mystery" series and not realized that Edward Gorey was responsible for the illustrations. I was first attracted to his pen and ink drawings in The New Yorker which depicted the Edwardian world with tombstones and women dressed in big hats and veils.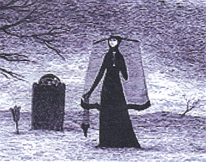 I discovered later that Mr. Gorey also wrote over 100 books that he illustrated and in his lifetime worked for 60 other authors who favored his talent as an artist. His books could best be described as morbid children's stories not intended for children. Ted Gorey's true love was the theater. In 1977 he won a Tony Award for his costume design for the Broadway production of "Dracula".
Edward Gorey was born in Chicago in 1925 and was drafted into the Army from 1943 to 1945. His military career was limited to being a company clerk. He went on to graduate from Harvard College, majoring in French. He never married and in 1986 moved to Cape Cod to live in a 200 year old house that was reported to be haunted. He died on April 17, 2000 and was cremated. His ashes were thrown into the Barnstable Harbor as he had requested. That day turned out to be rainy and overcast. What a fitting ending for someone who enjoyed portraying only the morbid side of life! For example he wrote an alphabet book listing 26 children's names and described how each child died. He also wrote the following rhyme:

The Chief Defect of Henry King
Was chewing little bits of String.
At last he swallowed some which tied
Itself in ugly Knots inside.
Physicians of the Utmost Fame
Were called at once; but when they came
They answered, as they took their Fees,
"There is no Cure for this Disease,
Henry will very soon be dead".

Once when Mr. Gorey was asked why he wrote so much about murder and violence, he answered: "Well, I don't know. I guess I'm interested in real life." If you are interested in all the gory facts of Edward Gorey's life, just read his New York Times Obits on the web at www.goreyography.com/west/obit/goodbyes/spots/obit-e-gorey.html